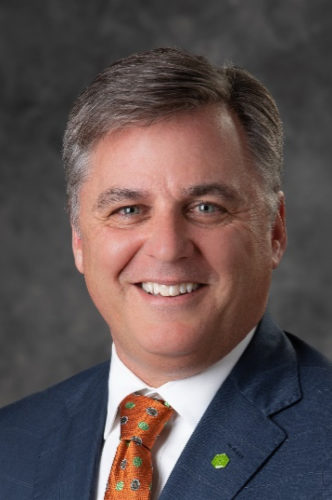 Gregory G. Viener
Greg Viener is President for Huntington Bank's Mid-Michigan Region. Greg is responsible and accountable for all Huntington business activity in the region. Prior to his current position at Huntington Bank, Greg held multiple roles including serving as a Community President, Manager of Business Banking and Director of Government Banking. Greg has been with Huntington Bank since 2004.
Before joining Huntington Bank, Greg served as Treasury Manager at the University of Michigan. At the University, he was responsible for all treasury operations, including daily cash management, banking relationships, and project management. He has also worked as a Senior Treasury Analyst for Coors Brewing Company and as the Assistant Cash Manager at United Artists Theatre Circuit.
Prior to joining the treasury, finance and banking industry Greg served 9 years in the U.S. Air Force, as a Non-Commissioned Officer, taught B-52 and B-1 armament systems and held a Master Instructor designation.
Greg is actively involved in several local non-profits and currently serves on the Board of Directors for the United Way of Genesee County, Food Bank of Eastern Michigan, Flint and Genesee Chamber of Commerce, Hurley Foundation, Flint Downtown Development Authority and the Flint Institute of Arts.
Greg has served as President of the Colorado Treasury Management Association, President of the Detroit Treasury Management Association and as President of the Tall Pine Council for the Boy Scouts of America.